Ultrasonic Cleaner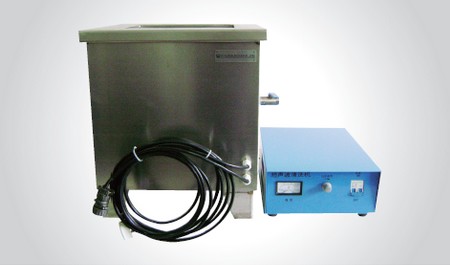 Ultrasonic cleaner is designed for gentle and efficient cleaning of air-jets for texturing and interlacing, ceramic parts, spinneret, candle filter, spin pack body, and other delicate parts.
Modern high performance ultrasonic facilitates the cleaning of air-jets for texturing and interlacing, ceramic parts, spinneret. Special advantages ensure cleanest parts in very short times without extra manual work or damage. Also removes persistent deposits in bores and hollow spaces.
The ultrasonic waves produce intense vibrations. The cleaning process is thus accelerated many times. The turbulent flow that is generated in the cleaning fluid removes the freed material quickly from the surface of the parts.
Ultrasonic cleaning units are easy to operate. The handling is problem-free thanks to the thermostatically regulated heating and timer. Housing and bath are made from stainless steel and thereby easy to maintain and wear resistance.
The units include a basket and lid made from stainless steel. Futai can supply tailor-made dimensions according to the size of the parts to be cleaned.
Hereafter we list one type of ultrasonic cleaner designed suitable for polyester filament spinning plant. We provide any dimension as requested.
Technical Data
Bath inside dimension L x W x H:600 x 500 x 300 mm
Unit overall dimension L x W x H: 760 x 680 x 560 mm
Unit weight: 74kg
Ultrasonic frequency: 25 KHz (adjustable 2%)
Ultrasonic power: 1500 Watt
Ultrasonic generator power supply: 220 /50 Hz
Housing material: stainless steel
Heating: to 110 ˚C
Heating power: 3KW (380V/50HZ)
Use Instruction
1. Connect the cable on rinse tank to the plug of ultrasonic generator: ultrasonic output (f).

2. Put liquid into the rinse tank until the parts to be cleaned are immersed, if the heating device is switched on, the liquid must be over heating tube.
3. Connect ultrasonic generator (d) to 220V, 50Hz power.
4. When switching (c) on ultrasonic generator, the liquid in the rinse tank start to vibrate. And adjusting power adjustor (b) to get different power.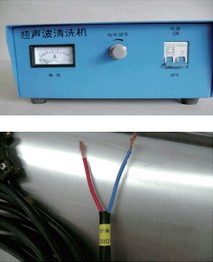 Ultrasonic generator (front)
a:ammeter
b:power adjustor
c:switch
5. If using hot water, connect cables to 380V/50Hz power supply and connecting it to the ground; the temperature can be adjusted via the switch on rinse tank. (Temperature switch on back of rinse tank)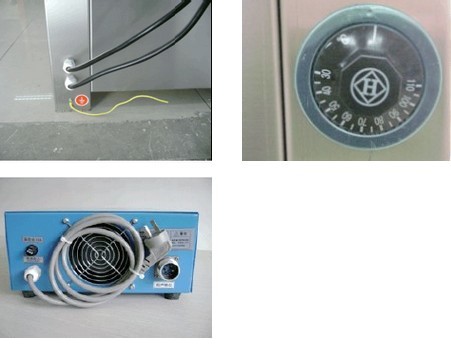 Ultrasonic generator (back)
d: ultrasonic generator power 220V
e: fuse 15A
f: ultrasonic output
g: fan