Spinning pump and oil pump for spinning machine
Spinning pumps are high precision gear metering pump in round or rectangular shape for the production of synthetic fiber filament, staple fiber, carpet yarn, tire cord made from PET, PA6/66, PP, etc.
High precision gear metering oil pumps for the application of oil, lubricants and preserving agents in spraying system, optionally available with pipe-fittings, gear-motor unit and inverter.
Here just only 2 types are listed. For more information, please contact us.

8 Outlet Spinning Pump

Main application: spinning process of the filament of POY and FDY

Number of inlet ports: l

Number of outlet ports: 8

Outlet pressure: 50MPa

Speed range: l0-40rpm

Max differential pressure: 40MPa

Operation temperature: <350℃

Cleaning temperature: <450℃

COMPUTER NUMBER

TYPE

CAPACITY PER PORT (cc/rev)

DIMENSION(mm)

H1

H

F3024801

FTB8X2.4 - 160

2.4

88.3

163.3

F3030801

FTB8X3.0 - 160

3.0

90

165

F3035801

FTB8X3.5 - 160

3.5

91.6

166.6

F3036801

FTB8X3.6 - 160

3.6

92

167

F3040801

FTB8X4.0 - 160

4.0

93.2

168.2

F3045801

FTB8X4.5 - 160

4.5

94.8

169.8

F3055801

FTB8X5.5 - 160

5.5

98.2

173.2
16 Outlet Oil Pump

Number of inlet ports: l

Number of outlet ports: 16

Speed range: l0-60rpm

Operation temperature: <50℃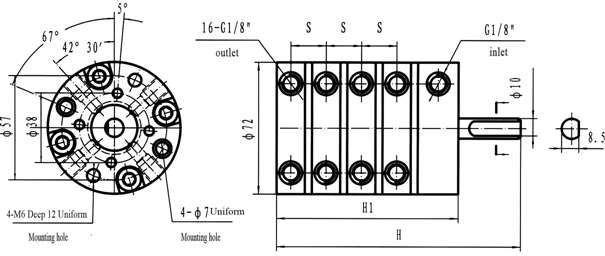 CAPACITY PER PORT (cc/rev)

H1

84 6

85 4

867

88 6

91.8

98.2