Stainless Metal Sand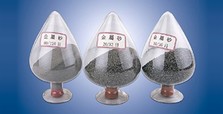 Achieving the highest quality fibers requires selecting the right filtering medium in the spin pack. Futai Stainless Metal Sand is the right spin pack filtering medium for outstanding continuity, fiber quality and volume performance. The irregular shapes of powder are extremely effective at shearing polymer micro gels, as well as trapping foreign materials in the polymer melt. The greater surface-to-volume ratio of metal powder particles results in superior filtering capabilities. Exact control of polymer temperature is critical to avoiding capillary breakage and dying differences. Futai powders are effective at conducting heat to remove heat from the spin pack.
Futai Stainless Metal Sands are available in a wide range of mesh or micron sizes. You can control spinning pressure
and increase life time of spin pack with Futai stainless metal sand sizes. Special mesh or micron sizes are available upon request.
Available Size (Special size upon request)

| | | | |
| --- | --- | --- | --- |
| Mesh | Micron | Mesh | Micron |
| 10 - 20 | 2000 - 850 | 60 - 80 | 250 - 180 |
| 20 - 40 | 850 - 350 | 80 - 100 | 180 - 145 |
| 40 - 60 | 350 - 250 | 100 - 120 | 145 - 125 |
Main composition & its data
| | | | |
| --- | --- | --- | --- |
| Item | Date | Item | Data |
| Ni | 8-11% | Si | 0.8-1.01% |
| Cr | 14-18% | C | <0.07 |
| Mn | 1.2-2.0% | Fe | Balance |